We established "KS HEAR TRANSFER LABELS CO.,LTD." as a joint company with San Ei Chemical Co., Ltd. which headquarters located in Takamatsu, Kagawa prefecture.
We produce and supply transfer marks, "KSLUSTER" which can promise safety and security with ecological water-based materials under the control of Japanese excellent technologies and quality control. We will support to shorten customer's delivery times and cost reduction of customer.
We have various in-house laboratories for quality control. In addition, we will give a customer full support including technical training and advice of heat transfer technologies for the local factories.
QUALITY
We produce and supply our products with the same quality as made in Japan.
We produce our products with the apparatus to be used, the materials and the inks ,according to the Japanese quality standards.
We implement a safe, secure and prior inspection according to the Japanese quality standards at our factories in China.
[ Resistance to washing, Adhesive property, Sublimability, Easy detachability, Formalin, Resistance to friction (dry/wet)]


*Other examination items: we will exam at domestic and international public institutions depends on a customer needs and a use of the label.

We produce our products with a stable quality by safe production management system and always keep to a delivery date.
Our transfer marks are used with a water-based ink which is human-friendly, earth-friendly and environment-friendly.
◎The merit of a water-based ink is environment-friendly.
There is no impact to human body through the improvement of the working environment in our factories.
We tend to shift to a water-based ink due to tightening of the environment standards in Europe and United States.
NETWORK
We will evaluate quickly an appropriate textile about the condition of transfer mark in our factories in Japan or in China.
We have a business meeting with a customer in Japan and produce the products at our factory in China smoothly, taking advantage of our network.
We can ship a product packing with other accessory materials.
AFTER FOLLOW
We promise to assign a person in charge of the technical advice for transfer processing and response to your inquiries. The staff will support for you quickly and totally.
We can sell a transfer machine and peripherals.
We also maintenance after selling them and follow up after supplying the labels.

Reduction of the custom duties and the  transportation cost for export.
Reduction of the paper work for export  at your company or a trading company.
Reduction of cost with the price of  local production.
3F, Bldg. No.2, No.6666, Songzedadao Road, Industrial Park Qingpu, Shanghai 201706, CHINA
TEL +86-(0)21-60769543
FAX +86-(0)21-60739513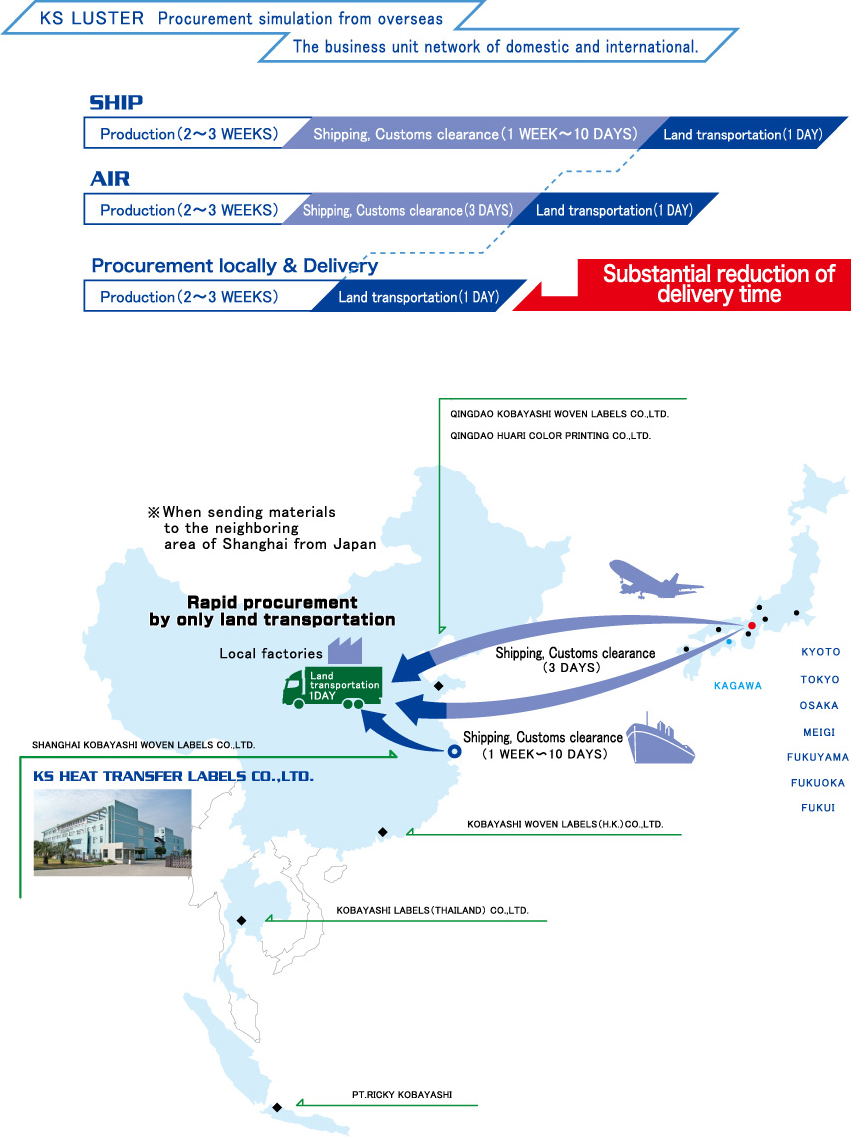 ページトップへ